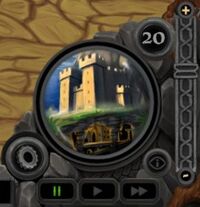 Dwarves don't just pop out of rocks, but they do come from the main dwarven city Hemfort. Hemfort also buys and trades with other forts and cities for supplies. When a player needs to sell excess supplies or recruit more dwarves they have to open the menu option for Hemsfort.
Dwarfling Queue
Edit
The Dwarfling Queue on the left is how a player may request more dwarves to come to the settlement. A total of five Dwarflings can be requested at a time. The total number of dwarves is limited by your Spawning Pool. The more Joy a settlement has, the faster the new Dwarflings will arrive.
Spawning Pool Upgrade
Edit
The Spawning Pool upgrade on the right is how a player can upgrade their Spawning Pool by use of Wealth.
Trade With Hemsfort
Edit
Should a player find themselves with an overabundance of resources, or find themselves needing more, they can buy and sell directly with Hemsfort. They need simply click a button to buy 10 or sell 10 of any Resource. By holding the Shift Key a player can buy or sell 100 resources at a time.